Celebrating God's Faithfulness since 1871.

History
First Christian Reformed Church was organized on July 14, 1871 by Dutch settlers originating from the Pella, IA area. They moved to the NW corner of Iowa seeking agricultural opportunities. The church was organized under the guidance of Rev. J. Noordewier and Elder A. Nultenbok of the Pella Classis.
Organ music has always been a staple of First CRC. The first pipe organ was installed in 1906 with the most recent organ installed in 1983.
You will also hear our church bell ringing before each service on Sunday. The bell was installed in 1925 and is the only working church bell used in Orange City today.
Former ministers of the church include: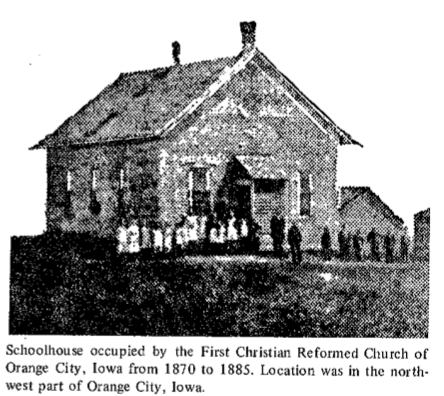 John Stadt (1877-1884)
Johann Gulker (1884-1890)
Ebenezer Vanden Berge (1891-1893)
Evert Breen (1893-1903)
Idzerd Van Dellen (1903-1907)
John Timmerman (1908-1916)
Ralph L. Haan (1916-1923)
Nicholas J. Monsma (1924-1929)
Ralph Bronkema (1929-1952)
Aldrich Dusseljee (1952-1957)
John B. Hulst (1958-1965)
Robert H. Tjapkes (1966-1971)
John D. Hellinga (1972-1977)
Menno S. Jorritsma (1977-1979)
Thomas C. Vanden Heuvel (1979-1985)
Ralph A. Pontier (1986-1994)
Timothy J. Ouwinga (1997-2009)